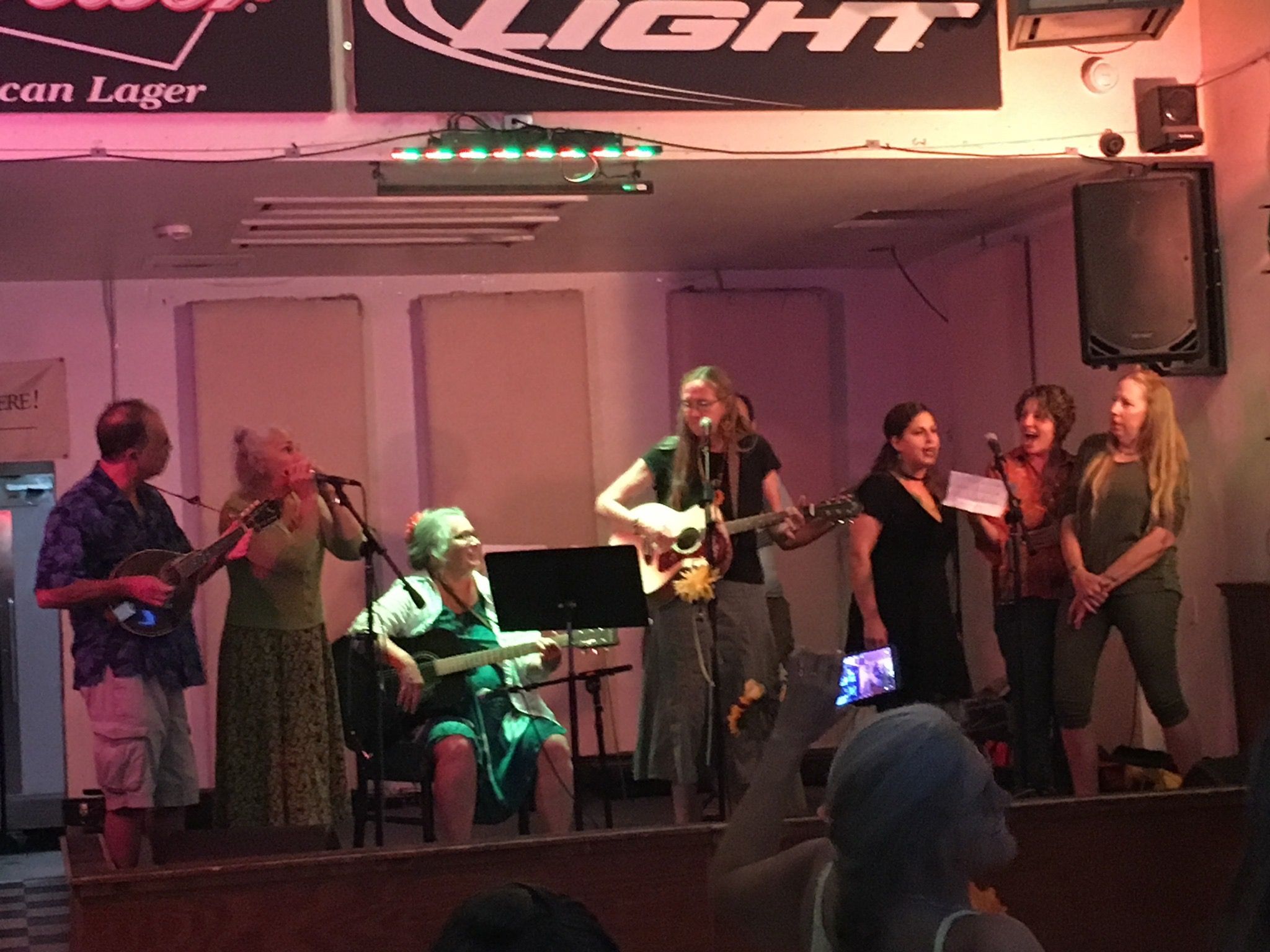 I had a blast and was in complete awe and gratitude at the turnout and support I got last Friday (6/28/19) at the Capitol Bar for my cd release party!! It was so much fun! I had lots of fun guests join me on stage too. I started off the night singing a couple songs off the new record Sunflower's Debut. Then my friend Stephanie Randolph came up to join me for a few more of mine, playing bass and a couple of her originals as well. Steph has been there for me since I picked up my guitar the first time, sang my first song in public and has been my biggest cheerleader along the way. 
Johnny Dean came up to join us and for a minute I had a 3 piece band!! He did another song off the record with me and then one of his originals called The Great Bars of New Mexico. Speaking of which, if you've read this far I thank you and for that you can hear Fangirl for free! That is the song I wrote one day after fangirling over local musician and award winning cowboy singer songwriter Doug Figgs at the Capitol Bar's Sunday Sessions. I sang Fangirl and a few of my very good friends decided to do fun shoutouts of "I'm a fangirl" from the audience and then join me on stage for the final chorus. That was just a blast girls!!
We took an intermission for me to sign CDs (how cool is that?) an then after a few more of my songs Jim Ruff, Socorro's own "music king", came up and sang 3 of his original songs about bars and New Mexico as we were on a very fun roll! I did a couple more older originals that didn't make the record but are still very dear to me. Then a special guest from Candy Kitchen, NM joined us with a delightful original tune called Blue Train. Genevieve Humenay is an amazing human, songwriter, banjo picker and songbird. She graced us with a beautiful song and energy that grabbed everyone's attention. 
We ended the night with two sing alongs!! The first, a Kate Wolf cover of Across The Great Divide with 7 of my friends on stage with me. It was magical and happened to be the exact weekend as this year's 24th annual Kate Wolf Music Festival so that was extra special. The photo above was taken during that song. Then, to wrap it all up I got my friends to stay on stage with me and we and the audience all sang Emma's Love together which shows the power of love and that the music matters! 
To say this night was beyond my wildest imagination would be a lie. I dreamed this night and my dreams came true!! I am so grateful to everyone that helped make it happen especially Linda and Shelbi at the Cap. Everyone who got up on stage with me including those already mentioned and also Nita, Karen, Megan, Judith and Peter! Thanks Mom and Dad for coming and everyone that came out to support me, listen and help me celebrate! I love you, I love you, I love you, I do!!